Getting ready for a summer holiday abroad can bring its own set of challenges – juggling concerns about home security and organising everything you need while you're away. Homes are often burglarised during the summer due to increased opportunity, as families head on holiday and leave their possessions vulnerable to theft. And, if you've got a staycation booked in the UK, or even if you're staying put, burglars still take advantage of the higher chances of finding an unoccupied home to break into.
New data has revealed which cities are most at risk of being targeted by thieves during the summer holidays, based on how crime rates change throughout July and August. We looked at how burglary crime rates change now compared to the first half of the year – with the data showing that over half (62%) of cities analysed report a significant rise in break-ins over the summer holidays!
What areas of the UK have the highest rates of burglaries?
Each year, data reveals which cities see the biggest rise in break-ins over the summer holidays. And, for the last 12 months the city that has seen the biggest increase in burglaries after schools break up is Coventry – with residential property break-ins seeing a massive 34% increase over summer. Crime rates increase by over a third (34%) in Coventry during the summer months, making it a hotspot for residential burglaries this year.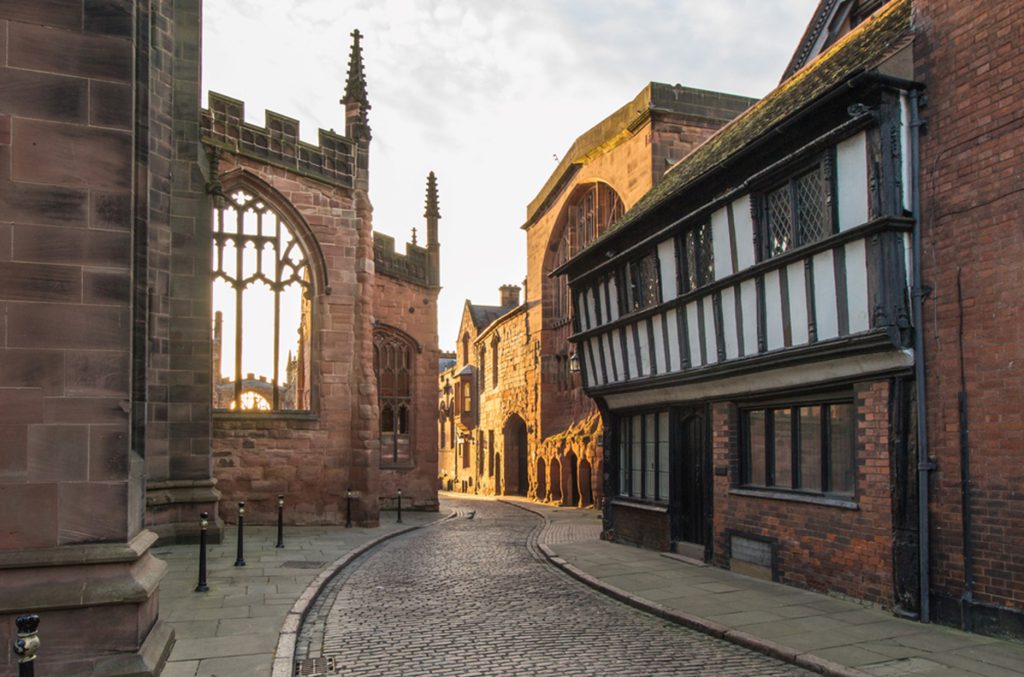 Despite Warwickshire reporting the lowest rate of annual residential burglaries of anywhere in the West Midlands, Coventry has become a hotspot for thieves looking to take advantage of properties left vacant as homeowners head off on their summer getaways. According to the Home Office police data, the number of burglaries in Coventry rose from 136 in June to an average of 182 each month throughout July, August, and early September.
In Peterborough, burglary crime rates also rise by over a quarter (27%) during the summer. Other at-risk areas include the City of London (burglaries up 26% in summer), Wakefield (up 24%), and Cambridge (21% rise).
On a brighter note, some cities actually see a drop in crime during the summer break. Lancaster reports 38% fewer burglaries compared to the first half of the year, Cornwall reports a 22% decrease over the same period, and Stoke-on-Trent sees break-ins drop by 20%.
It makes sense that some of the nation's most popular holiday destinations are among the cities that see a drop in burglaries over summer – including Cornwall, Portsmouth, and Bristol – as thieves will be reluctant to intrude on holiday lets unless positive that they're vacant.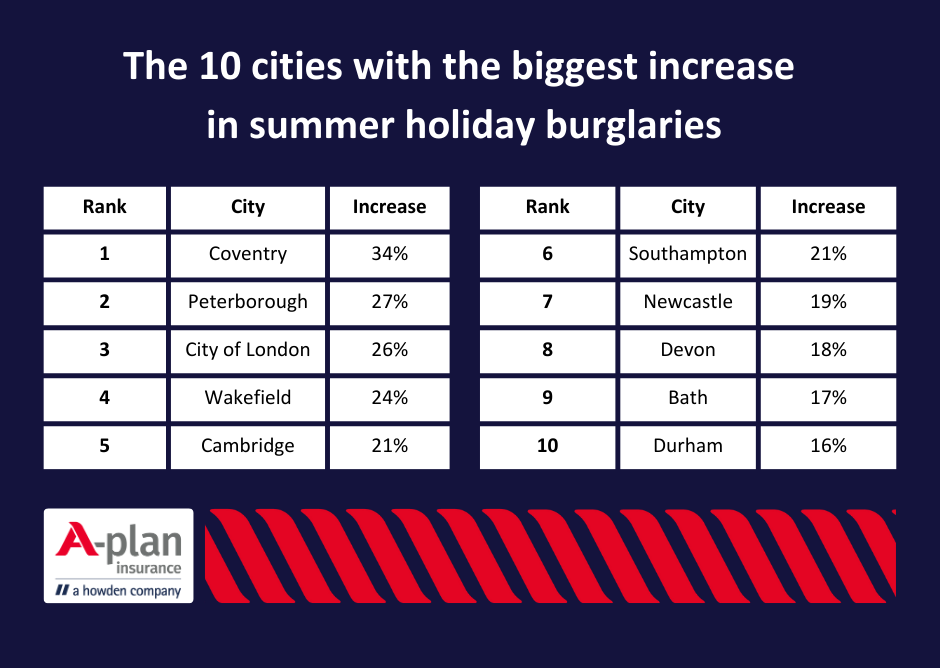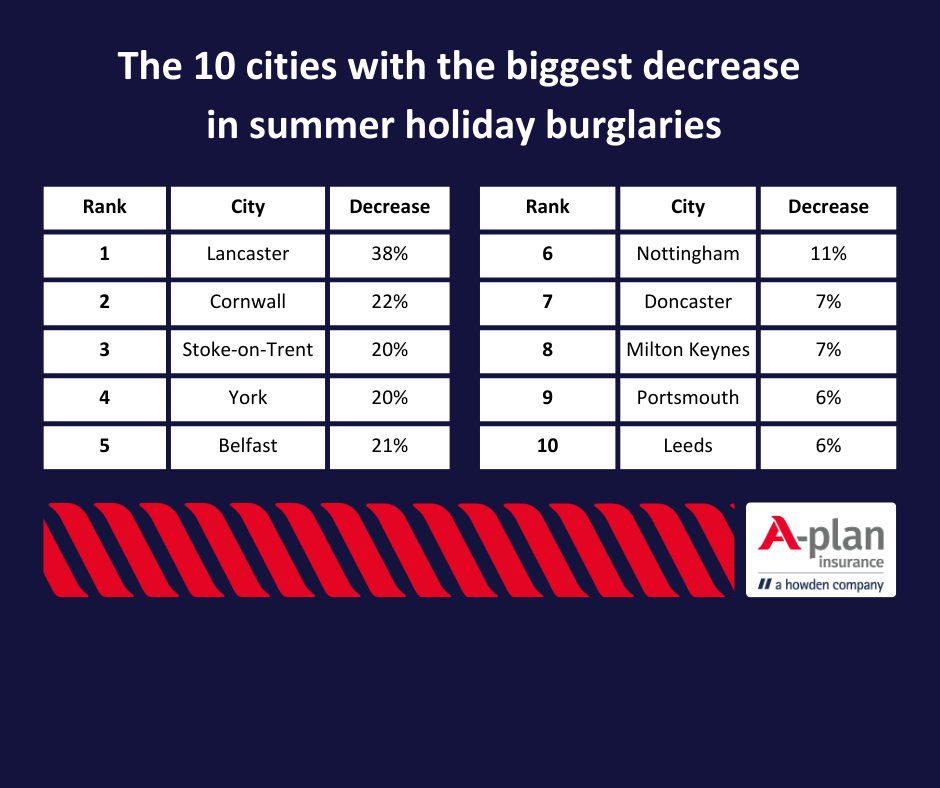 How can I keep my home safe from burglars?
According to the data, most burglaries occur during the week, with the front door the most common point of entry for thieves – although they often enter via windows. While most doors have their locks forced open, in a fifth of cases (20%), the front door wasn't locked, and burglars were able to simply walk into the home. This suggests homeowners either forget to lock their door before heading out or going to bed. They could have also been distracted in their back garden and not notice an intruder slip into their home!
For those who don't plan to go away this year, the warmer weather can pose an increased risk of theft, as homeowners open their windows and doors, and often forget to close them. Even if you're only heading off for a day trip, the data shows that you need to be cautious, as break-ins are almost as likely to occur during daylight as at night (42% during the day compared to 54% night). Despite common perceptions, dawn and dusk are the least risky times, with a 4% likelihood.
The summer months provide more opportunity for thieves to take advantage of longer days, open windows and doors, and vacant properties – so it's not surprising some cities see a huge increase in burglaries.
While there are plenty of ways to improve your home security – including investing in a camera or asking a family member to house sit – here are some of the most common mistakes homeowners make when heading away, which can make them a target for theft.
Choosing an obvious key safe. While key safes are a great way to store your keys within easy reach, they also highlight to thieves that they can access your home once they crack the code or break the lock. You can avoid this by placing your safe in a less visible spot – such as down the side of your home rather than by the front door – or, ideally, behind something like your bin store. Avoid the key safes that look like other items (such as a plastic rock), as these will stand out more to thieves.
Letting mail and deliveries pile up. One of the telltale signs that a property is vacant is a build-up of envelopes by the front door – especially if your front door is made of glass so that delivered mail is easily visible from the outside. Either ensure that a friend or neighbour can come round and regularly clear it away or invest in a mounted wall post box to keep any letters and leaflets delivered while you're away out of sight.
Placing outdoor furniture by windows. As it's summer, many families will have hosted a BBQ outside to make the most of the warm weather or invested in additional outdoor storage to keep tools safe. However, if placed under windows, they can give thieves a 'leg up' to break in – especially if you've left the top-floor windows cracked open to air the house out in your absence. Consider bringing your outdoor furniture inside while away or invest in a shed to store belongings.
Protecting your prized possessions
Our local insurance experts are more than happy to run through some of the best ways to protect your home, and help ensure that you're correctly covered, should the worst happen. It's crucial that your contents insurance is up to date, so that you don't risk being underinsured. It may also be the case that any security measures you have in place affect the cost of your premiums, so it's essential that you keep on top of your policy! Contact your local A-Plan branch, who will be able to help you get the information and cover you need.
You could also read: