More and more people are using an electric scooter to navigate busy town and city centres. Some are for hire as part of a government-backed trial. Some are privately owned by individuals who may intend to use them to commute to school, university, or work.
The UK isn't alone in witnessing the increase in e-scooter uptake with popularity increasing around the world in a bid to reduce traffic and air pollution. While the concept is great in principle, recently, France has taken steps to ban them citing a rise in accidents.
Maybe you're looking to buy an e-scooter, or have been given one as a gift (or, dare we say it, considering one for Christmas), and you aren't sure where to begin. Here's everything you need to know.
What is classed as an e-scooter?
The term 'scooter' has various incarnations, from mobility, to a moped, to the L-shaped scooters you see for hire. The L-shaped scooter is just that, while anything you can sit on is classed as a moped or bike.
While councils are trialing the L-shape e-scooters, they are starting to lose some appeal, particularly following a number of tragic incidents where young people have been injured or died. Whether rented or publicly owned, many don't realise the strict usage rules around e-scooters – one journey into a town centre, on a busy road, can illustrate a serious lack of safety and rule awareness in the UK. It's important that we all do our bit to raise awareness.
Are e-scooters legal?
This is question that pops up on Google frequently and, as insurance brokers, we have been asked about. There are two answers surrounding the legality of electric scooters being legal, and the answers may surprise you.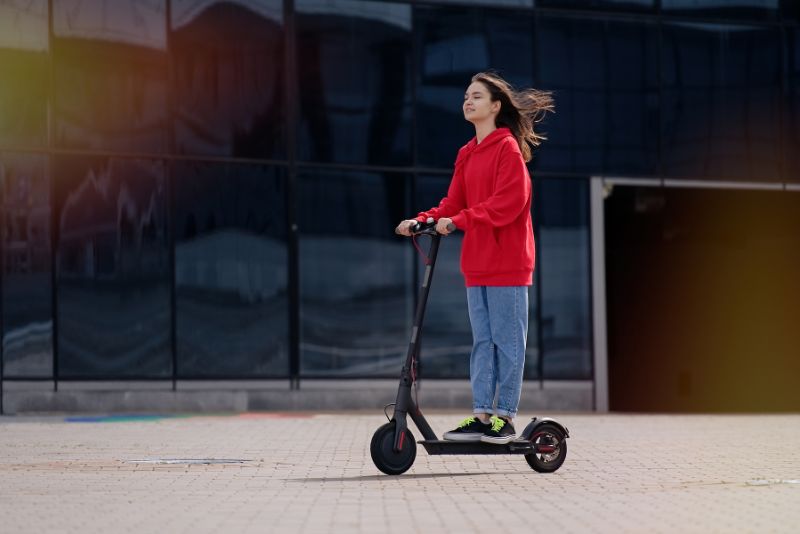 Privately owned electric scooters are perfectly legal – as long as you don't ride them on the public highway. This includes publicly owned roads and pavements, which means that you are effectively restricted to using them in your own home.
You'll spot this disclaimer on many of the big retailer websites: "Please note that this scooter is not to be used on public highways, only on private property with the owner's consent." Despite this, many still use their e-scooter in public places, with many being children or young adults.
The matter becomes even more confusing when it comes to the rented e-scooters that have popped up along many of our high streets as part of a government trial. Unlike private e-scooters, rented e-scooters are allowed on the road, but never on the pavement. The rider needs to be over the age of 18 (usually, although some permit over the age of 16) and only one rider must use it at once. There are also additional rules surrounding scooting while under the influence which could land rogue users with a fine and points on their driving licence (as if they were driving a motor vehicle).
Are e-scooters dangerous?
The most recent data on e-scooter accidents and crashes comes from June 2022, which showed that in that year, a total of 1,349 incidents involved an e-scooter user. Of that total, 996 were slightly injured, 429 were seriously injured, and 12 were sadly killed.
Still, there are regular headlines about serious e-scooter crashes across the country, with either the rider or other road users endangered. Pedestrians and cyclists were the other road users most likely to be harmed in accidents involving e-scooters. So, it's not just e-scooter users that are at risk.
New testing by DEKRA, a German automotive testing, inspection and crash research company, highlights how an e-scooter rider's head is particularly at risk in an accident. Head impact on the ground occurred in almost every crash-test of an e-scooter hitting the curb, a common scenario, and was often severe. Risk of concussion was identified in nearly 100% of the cases; and risk of severe to very severe head injuries was shown in 90%.
A simple cycling helmet could make a world of difference, to either prevent or mitigate the injuries you could suffer in an e-scooter crash.
Do you need a licence to drive an e-scooter?
You don't need a driving licence to ride a privately owned e-scooter as you aren't legally allowed to use it on the road or pavement. But, if you hire one, you do. Transport for London rental providers require users to have a driving licence, be over the age of 18, and participate in mandatory training.
Zwing, another e-scooter hire provider, states that riders require a full or provisional car, motorcycle or moped licence and must be over 16. This is checked via the app associated with the rental scooter – the user photographs their driving licence and sends the company a selfie for them to review and approve it. However, there is little to stop someone far younger from being given access to use one in reality.
What is the law on e-scooters?
Privately owned e-scooters are banned from roads and pavements. The issue is primarily down to visibility and safety. They don't always have visible rear lights, and don't have number plates or signalling ability so can be a danger to the rider and other road users (and those walking on pavements).
The user isn't correctly trained to understand the rules of the road as they would be if they took a CBT course to use an e-moped or motorbike and can present a danger to themselves and others.
If you do decide to use your personal e-scooter outside of your own home, you could be hit with a fixed penalty fine of £300 and six points on your driving licence, if you have one!
Do e-scooters need insurance?
Here's the cinch: a private electric scooter doesn't require vehicle insurance as they are not meant to be ridden in public at all. And when you ride it in private, such as around your home and garden, you don't need insurance.
If you are using it on private property that isn't your home, all you need to obtain is the property owners' permission. However, with the price of some e-scooters over the £500 mark, you will want to consider the cost to replace the scooter in the event of theft, at which point this is likely to fall under your home insurance policy.
If you would like to include your e-scooter in your home insurance policy, you will need to check that you are effectively covered. Keep hold of your receipt in the event of a claim, it can really help to speed up the process. If the worst happens, contact your local branch who will be by your side in the event of a claim.
What do you do if you have an e-scooter accident?
If you are riding your privately owned e-scooter illegally, in public, and are involved in an accident on a road or pavement, you will be at fault and liable for costs.
When it comes to the rented e-scooters, the rider may be covered by the hire company's insurer, but we urge all users to find out more about the cover prior to hiring an e-scooter. There is little in the way of terms and conditions available on the websites we reviewed, which is alarming considering the target market may not even realise they need this kind of cover, or the implications of not having the right cover.
If you spot any reckless riding, underage users, pavement riding, two riders or more on one scooter – or anything else – call the police immediately. It could save a life.
Sources: Police.UK, Forbes, Gov.UK