NHS England data has shown that the number of children awaiting consultant led treatment has reached an all-time high, with 403,955 children currently on the waiting list. To put that into context, that many children could fill Wembley stadium four times over.
The research shows almost 5% (17,991) of these children awaiting consultant led treatment have been waiting more than a year for essential treatments. These worrying figures appear to reinforce a growing demand within the private medical insurance (PMI) sector for children's care.
Ian Sawyer, an A-Plan Commercial Director, said: "Over the past year, we have observed a notable increase in interest in child-only PMI policies. Many parents – and even grandparents – are thinking about health insurance for children rather than putting money into savings.
"For example, a 5-year-old living in Gloucestershire with a £100 excess could be covered for private sector diagnosis and full treatment for just £12.55 per month."
A child policy is very similar to an adult policy and will cover anything that is not already considered pre-existing. Some policies also include digital GP access and other in policy benefits such as accommodation for an adult if the child in is hospital.
The ability to access a digital GP 24/7 has become a very attractive benefit of Health Insurance. All parents recognise the anxiety and dissatisfaction around using 111 in the middle of the night when your child is ill. Round-the-clock access to a medical expert could provide you with added peace of mind, getting you the support that you need in such stressful situations quickly.
What private medical insurance can I get for my child?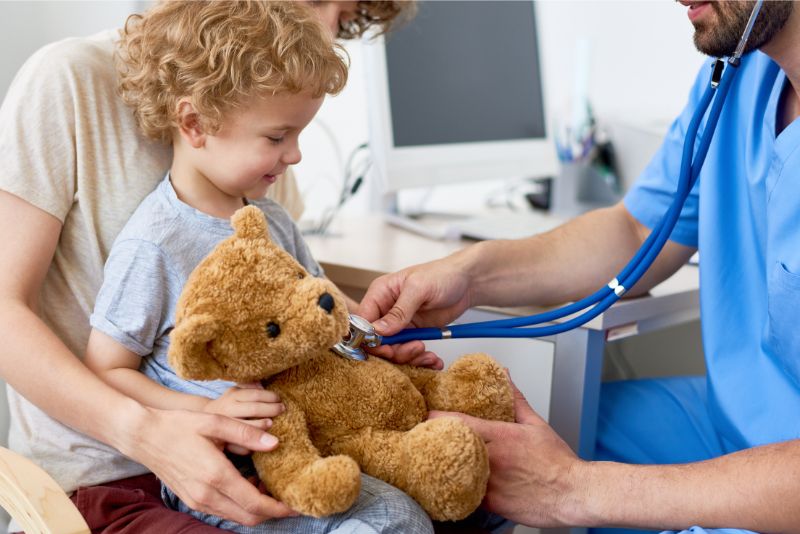 Like with adults, all child-only health insurance policies are slightly different, and we recommend seeking advice if it's something you would like to know more about. Health insurance is priced based on age, location, and cover level, so each quotation could look different across the UK, depending on your circumstances.
Of course, family plans are available covering both the parents and their children, but sometimes an employers' scheme might only cover the adults (employees), leaving their children unprotected. Often affordability is the issue and parents (rightly or wrongly) prioritise their children over themselves.
Ian Sawyer continued: "Each and every day we are helping clients who have concerns about their children's future health. We are incredibly proud of what the NHS offers, but should you want that extra protection for your children, a policy could help provide that."
Can my child still use the NHS?
In the UK, we are fortunate to be able to get medical treatment via the NHS as most countries do not have such a service. But as the figures above show, the NHS is under significant strain.
If you decide to set up private health insurance for your child, you may be worried about where this leaves you when it comes to the NHS and accessing its services. But private health insurance is designed to work alongside the NHS, and your child will still be entitled to NHS treatment via your GP and in A&E.
By having private medical insurance for your child, you can avoid long NHS wait times, have access to a greater choice of treatments, and ultimately get a bespoke care plan that suits you and your family.
How do I find the right private medical insurance?
With so many options out there, it can be overwhelming to sort through different insurance providers and policies to find the best one for you. That's why working with a broker such as A-Plan can help alleviate the stress of the process, guiding you through the process, answering all your questions and finding policies to suit your personal circumstances.
We've helped many families opting for children's health insurance, one of which said "A-Plan helped me find the right policy for our family. All my questions were answered, and different options explored. I am satisfied I have found the best insurance for my child."
Another told us: "My advisor was super nice, taking his time to find the right policy for myself and my two children. He thoroughly explained any queries I had and how to get the best from my policy."
If you would like to know more about private medical insurance for your child, yourself or your family, our friendly team are here to help. You can talk to an expert via telephone, or head into your local branch, where an expert can guide you through your options.
Sources: Health&Protection.com
You could also read: